Holly's Favorite Workshop Recipes
Holly's Special "Holly-Day" Fudge
3 cups white sugar
3/4 cup butter
2/3 cup evaporated milk
1 (12 ounce) package of white chocolate chips
1 (7 ounce) jar marshmallow creme
1 teaspoon red gel food coloring
1 teaspoon green gel food coloring
1 teaspoon vanilla extract
Butter a 9×13-inch pan.
Mix sugar, margarine, and evaporated milk in a large, heavy saucepan over medium heat, stirring to dissolve sugar. Mixture should come to a full boil. Then once it's at a full boil, set the timer and let it boil for 5 minutes, stirring constantly.
Remove from heat and stir in white chocolate chips until melted and thoroughly combined. Beat in marshmallow creme and vanilla extract.
Using 3 bowls, divide your fudge into 3 equal portions. Add the red gel food coloring to the first bowl and stir until the coloring is completely blended.
Repeat this step with the green gel food coloring in the second bowl. Then, pour your third bowl of white fudge into the buttered 9×13-inch pan.
Using a large spoon, dollop 2 tablespoons full of each of the colors randomly in the prepared pan. Once all the colored fudge is in the pan, take a butter knife and swirl the colors around to make a festive pattern.
Let fudge cool for an hour. Then, cut into squares.
The Builders' "Built to Last" Buttercream Brownies
5 tablespoons unsalted butter
1 1/4 cups granulated sugar
2 large eggs + 1 egg yolk, cold
1 teaspoon vanilla extract
1/3 cup vegetable oil
3/4 cup unsweetened cocoa powder
1/2 cup all-purpose flour
1/8 teaspoon baking soda
1 tablespoon cornstarch
1/4 teaspoon salt
3/4 cup milk chocolate chips
Preheat the oven to 325°F. Line a 8×8-inch pan with foil or parchment paper and spray with nonstick cooking spray or use butter to grease pan.
In a microwave safe bowl, add the butter and sugar. Microwave for about 1 minute, or until the butter is melted. Whisk in the eggs, egg yolk, and vanilla. Stir in the oil and cocoa powder.
With a rubber spatula, stir in the flour, baking soda, cornstarch, and salt until combined. Stir in the chocolate chips.
Spread the brownie batter evenly into the prepared pan. Place in the oven and bake for 30 minutes, or until the brownies are set and a butter knife or a cake tester inserted into the center of brownies has moist crumbs attached. Do not overcook. Let cool completely before cutting and serving.
Brownies can be stored in an airtight container at room temperature for up to 3 days.
To double this recipe, use a 9×13 pan and bake for the same amount of time.
Buttercream Frosting Ingredients
3 cups powdered sugar
1/3 cup butter, softened
1 1/2 teaspoons vanilla
1 to 2 tablespoons milk
Buttercream Frosting Directions
In medium bowl, mix powdered sugar and butter with spoon or electric mixer on low speed. Stir in vanilla and 1 tablespoon of the milk.
Gradually beat in just enough remaining milk to make frosting smooth and spreadable. If frosting is too thick, beat in more milk, a few drops at a time. If frosting becomes too thin, beat in a small amount of powdered sugar. Frosts 13×9-inch pan of brownies generously.
To give your brownie frosting a holiday look, stir in a teaspoon of red or green gel food coloring.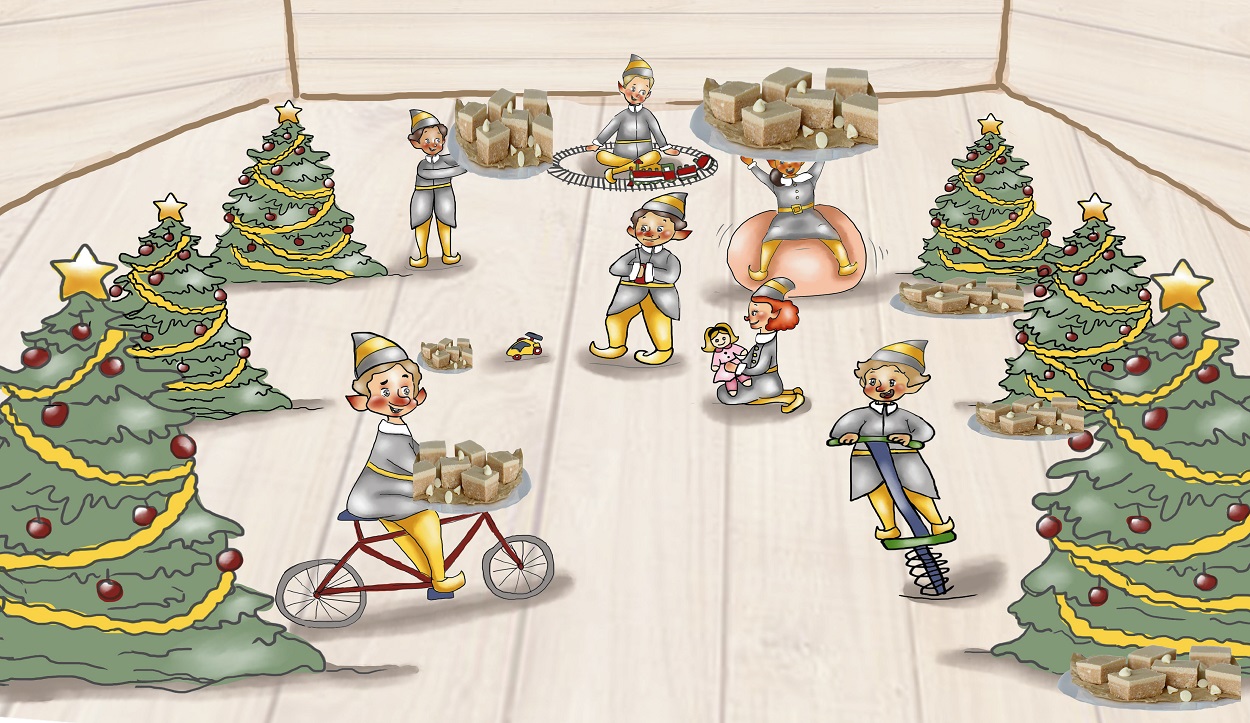 The Inspectors' "Tested & Approved"
White Chocolate Peanut Butter Bars
1/2 cup salted butter, melted
1 cup graham cracker crumbs (about 8 full sheet graham crackers)
2 cups confectioners' sugar
1 cup + 2 tablespoons creamy peanut butter, divided
1 cup white chocolate chips
Line an 8×8 or 9×9 inch square baking pan with aluminum foil or parchment paper. Set aside.
Mix the melted butter, graham cracker crumbs, and confectioners' sugar together in a medium bowl. Stir in 1 cup of peanut butter, then press evenly into prepared baking pan.
Melt remaining 2 tablespoons of peanut butter with the white chocolate chips in the microwave or on the stove. Stir until smooth. Spread over peanut butter layer.
Chill in the refrigerator until completely firm, at least 2 hours. Allow to sit at room temperature for 10 minutes before cutting. Serve chilled. Setting them out for a few hours at room temperature for serving is okay.
Cover leftover bars tightly and refrigerate for up to 1 week.
Freezing Instructions: Cover bars tightly, as a whole or cut into individual squares, and freeze for up to 3 months. We simply line the squares in a freezer-friendly container between sheets of parchment paper. Thaw overnight in the refrigerator before serving.
Unsalted butter can be used instead of salted butter, but you'll need to add 1/4 teaspoon salt with the peanut butter in Step 2.
For best results, try using a processed creamy peanut butter brand like Jif or Skippy. Note: Using an oily or natural style peanut butter for this recipe is not recommended.
To give your white chocolate a more holiday or festive look, stir in a teaspoon of red or green gel food coloring.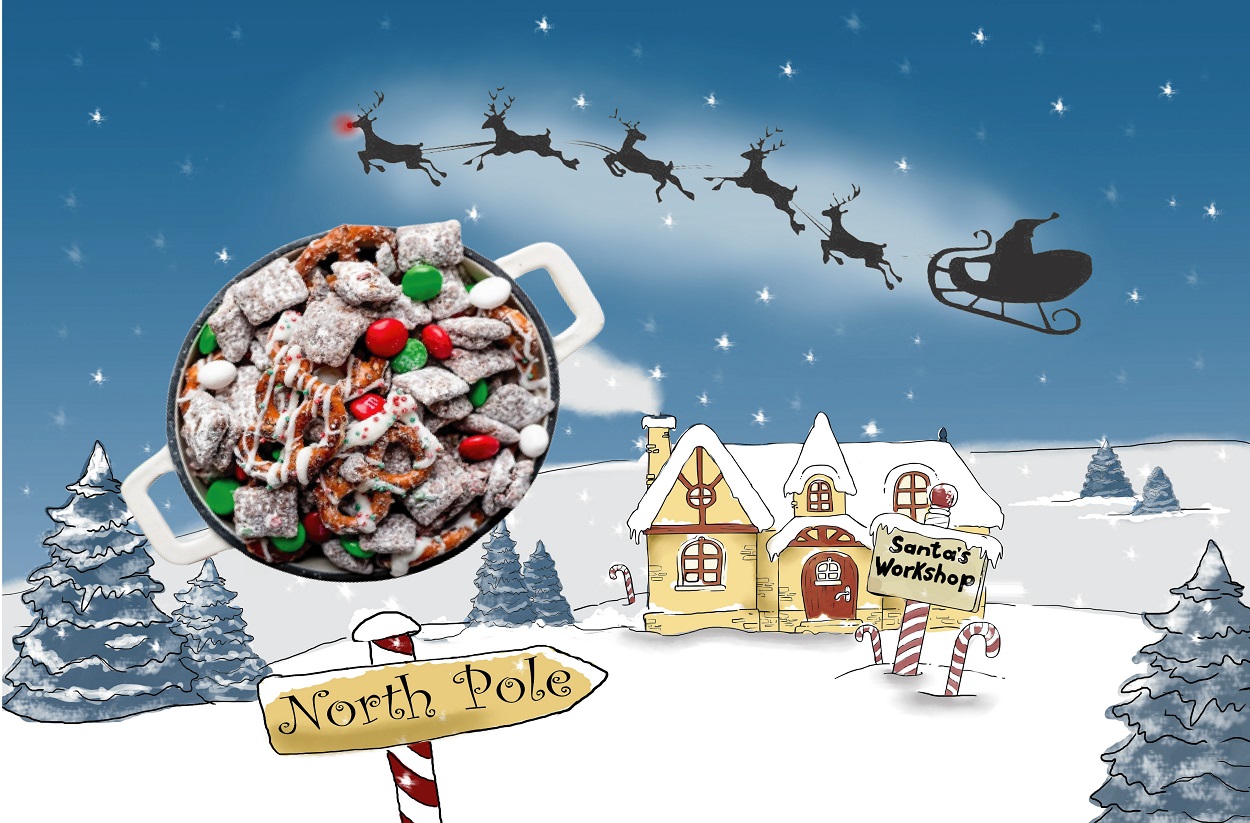 The Reindeer's "North Pole" Trail Mix
6 cups Rice Chex cereal
1 cup semisweet chocolate chips
1/2 cup creamy peanut butter
1 cup dry brownie mix or 1 cup powdered sugar mixed with 1 1/2 tablespoons cocoa powder
1 bag Christmas M&M's 12 ounce bag
2 cups mini peanut butter cups
2 cups pretzel twists
Place the cereal in a large bowl. In a medium bowl, combine the chocolate chips and peanut butter. Microwave the chocolate mixture for 30 second intervals until melted; stir until smooth.
Pour the chocolate mixture over the cereal and use a spatula to gently toss the cereal in the chocolate until completely coated.
Place the brownie mix inside a resealable gallon sized plastic bag. Add the chocolate coated cereal. Seal, then shake until cereal is coated in the brownie mix.
Spread the cereal out in a single layer on a sheet of parchment paper; cool completely until dry.
Combine the cereal, M&M's, peanut butter cups and pretzel twists, then serve.
To make this reindeer chow peanut free, use white candy melts instead of peanut butter in the chex and swap out the peanut butter cups for mini marshmallows.
Mrs. Claus' "Old Fashioned" Cinnamon Oatmeal Cookies
2/3 cup granulated sugar
2/3 cup packed brown sugar
1/2 cup butter (preferred) or margarine, softened
1/2 cup shortening
1 teaspoon baking soda
1 teaspoon ground cinnamon
1 teaspoon vanilla
1/2 teaspoon baking powder
1/2 teaspoon salt
2 large eggs
3 cups quick-cooking or old-fashioned oats
1 cup all-purpose flour
Optional: 1 cup raisins, chopped nuts or milk chocolate chips
Heat oven to 375°F. In large bowl, beat all ingredients except oats, flour and raisins with electric mixer on medium speed, or mix with spoon. Stir in oats and flour (and raisins, if preferred).
On buttered cookie sheet, drop dough by rounded tablespoonfuls about 2 inches apart.
Bake 7 to 8 minutes or until light brown.
Let cool on cookie sheet or wait a few minutes and transfer cookies to wax paper.
You can use 1 Butter Crisco stick (which equals 1 cup) in place of 1/2 cup of butter and shortening.
Santa's "Marshmallowy" Sweet Potato Pie
Ingredients
5 lbs of sweet potatoes peeled & chopped
2 large eggs
1/2 cup evaporated milk
3 tbsp pure vanilla extract (for cooking potatoes)
1 tbsp pure vanilla extract (for pie fillings)
1 tsp ground cinnamon
1/2 tsp ground nutmeg
1/4 tsp ground ginger
1 ½ cup white sugar (for cooking potatoes)
1cup brown sugar (for cooking potatoes)
1 cup white sugar (for pie filling)
2 sticks or 1 cup of butter (for cooking potatoes)
4 tbsp butter softened
2 deep-dish pie shells
2 (7-ounce) jars of marshmallow creme (optional)
Toss the peeled and chopped sweet potatoes into a large pot and add a stick of butter.
Next, add 4 tbsp of vanilla, 1 cup of brown sugar and 1½ cups of white sugar. Stir occasionally. Let cook on low-medium heat until potatoes are tender.
Once the potatoes are done, let them cool. Then, place them into a covered container and put them into the refrigerator overnight.
Preheat the oven to 350 F. Remove the pie crusts from the freezer and let them thaw at room temperature.
Drain butter from sweet potatoes.
Next, toss the refrigerated sweet potatoes into a large mixing bowl and mix them until the potatoes are nice and creamy. (If possible, whisk them, too.)
Sprinkle in 1 tsp ground cinnamon, 1/2 tsp ground nutmeg, 1/4 tsp ground ginger, and 1 cup granulated sugar.
Next, add the eggs, 1/2 cup of evaporated milk, 1 tbsp vanilla extract, and 4 tbsp of softened butter.
Mix and/or whisk until the pie mixture is creamy and airy.
Take a fork and lightly poke holes into the bottom and sides of the thawed pie crusts.
Pour an equal amount of sweet potato pie filling into each pie shell and smooth out each mixture with a spoon or a spatula.
Bake both pies for 45 minutes. Then, let them cool before adding one can of marshmallow creme to the top of each pie.
Once marshmallow topping is added, spread it over each pie with a spatula. Then, set your oven to 'broil' and place pies on top oven rack. Watch them very closely until their tops are golden brown. Then, remove them from oven, let them cool, slice and eat.
Pies are also good when served with a dollop of whipped cream or whipped topping.
We hope you enjoy these recipes!